GET YOUR 2022 Beautiful Golf Courses of New York State Calendar Golf Card TODAY at Hartford Greens Country Club!

Looking For a Great Gift for those Golfers On Your List? The Calendar Golf Card is the "Perfect Gift"… For Any Occasion! Makes a nice Mother's Day gift, Father's Day gift, grab one for a graduation gift or get one for yourself just because it's worth it!! You can get yours today from inside the Hartford Greens Country Club pro shop for $31.95 +tax.
This is how the Calendar Golf Card Works.
The Calendar Golf Card is a Discount GOLF CARD, which comes packaged on the back cover of our New York State Golf Calendar. The card entitles the cardholder to the best golf specials available at the courses featured in the calendar as well as discounts at local golf stores and driving ranges. There are over 130 courses across the state! The high quality wall calendars feature beautiful photos of each course as well as descriptive narratives and full contact information.
The Calendar Golf Card is cut right out of the back cover! This year there are over 30 deals with either a FREE GREEN FEE with cart rental or an 18-hole green fee and cart for $25 or less!
The 2022 Calendar includes many of the strongest deals available anywhere – tons of FREE Green Fees and deals for 18 holes w/cart for $25 or less! You'll pay for the calendar in just a couple usages! All 4 NY Regions – Capital Region; Central Region; South Eastern Region; and Western Region – are included in one calendar!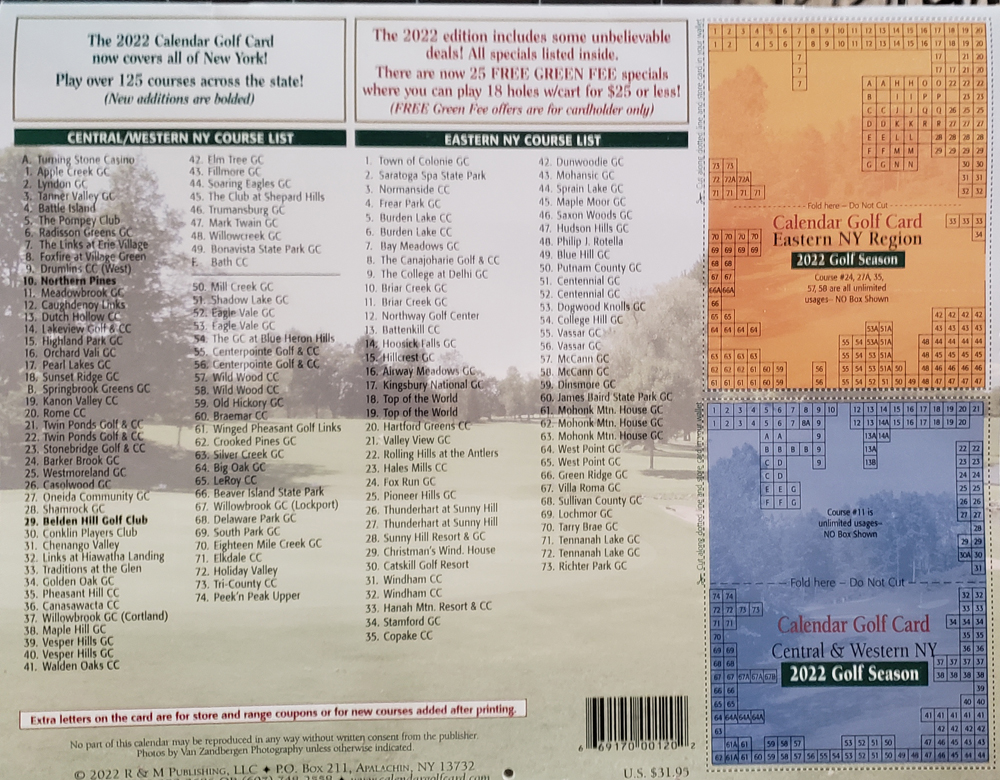 HOW LONG IS A GOLF CARD VALID?
Memberships expire at the end of the golfing season.
---
HOW MANY TIMES CAN I PLAY EACH COURSE?
Most courses can be played 2 times with many courses offering additional rounds.
---
WHAT ARE THE GOLF COURSE RESTRICTIONS?
Advanced tee times are requested by most courses, league play, special events, promotions, and tournaments are excluded. Most courses are valid on weekends and holidays, however later tee times may apply. Each golf course will indicate the number of rounds that are valid, tee time requirements, and other information within their course description. Each golf course may be played at least 2 times with most courses offering additional rounds.